Escort in Training Paperback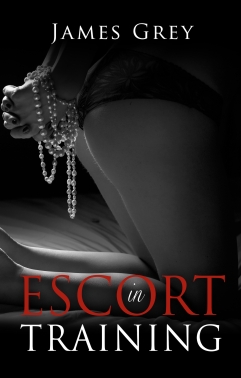 You can order my (unsigned) paperbacks direct from Amazon on the link above - but you can also order them direct from me. Not only can I offer the same price or better for your location, but it means Amazon don't get to scrape off a bunch of the money you pay. For that this indie author is always grateful...so send me your request on the contact form and I'll be in touch fast!
Emma Carling works a stupid, stressful office job in London. She can't stand her mean cow of a boss. Sex? The slender brunette may be stunning, but for the last couple of years she's just been trying to survive! And she doesn't
do
one-night stands. Well, not often. Kink? Certainly nothing she'd trouble to mention. Experimenting with women - never! She's from a decent family after all. She's a
good
girl.
Then comes a life-changing moment. She tells her manager where to go and storms out of her job. Is it a huge mistake? As the dust settles and the realities of unemployment hit home, she's full of doubt. Then a seriously wealthy friend of a friend hints that she'd make huge cash as a 'premium escort'. At first Emma is offended. Then she laughs it off. She's
so
not that kind of girl.
But she can't help wondering what it's like to be so
wanted
. Especially by the wealthy and the powerful. And when the rich Charles offers to pay for her to attend a secret, exclusive school in the English countryside for budding escorts, she finds herself saying 'yes'.
Can Emma shake off the shackles of her conservative upbringing? What sensual arts will she learn at this unusual school? Will she fall for the hand-picked staff? Or might her gorgeous classmates pique her interest? What happens if she transgresses? Can she live with her feisty peers…and can she live with
herself
?
Escort in Training has been a consistent erotica best-seller ever since its publication in 2015. It's the gateway to the Emma series, the entirety of which James Grey writes from a female point of view.
"We do come across some male authors who also know exactly what women want. Grey has found that niche in this heavily crowded market."
- Amazon review by Shirley
"You might just learn something!"
- Amazon review by CK
"This is the first book I've read by James Grey and gracious almighty it was HOT!"
- Amazon review by Angie Tucker
978-1522963479 | October 1, 2020
Also available as...